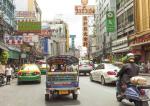 Your next family adventure is closer than you think. Why wait for the June or September holidays when there are long weekends to take advantage of! Next month, Vesak Day falls on 19 May, which is on a Friday. The best part? This is only one out of four long weekends this year!
So start planning your next trip and get ready for some family fun at any of our top 3 family-friendly getaways!
Bangkok, Thailand:
Everyone loves and visits Bangkok because of the various cultural and historical sites scattered across the city. It also helps that it is so close to Singapore! Apart from all the shopping, eating and sightseeing you can do, there are numerous activities for the whole family.
Family-friendly plans to consider: Escape the heat by cooling off at a skating rink or water park, play with adorable corgis at a café, or bounce around on a trampoline. Those who wish to get up close to wildlife can do so at the Khao Yai National Park, which is only 2.5 hours from Bangkok.
Battambang, Cambodia
Would you like to explore the ancient ruins of Banteay Chhmar and Banteay Top? Battambang is an ideal place for your family to take an in-depth look at rural Cambodian life. It is the second largest city in Cambodia, and pairs pristine countryside with traditional Khmer culture.
Family-friendly plans to consider: Watch thousands of bats emerge from the caves of Phnom Sampeau at sunset, take a ride on the bamboo train, or enjoy performances at the Phare Ponleu Selpak Circus. If you'd like to attend an art workshop, you may explore your options at Phare Ponleu Selpak.
Ha Giang, Vietnam
Ha Giang province is the final frontier in Vietnam's north, where hill tribes dressed in technicolour live in mist-wreathed mountains. A visit here introduces you and your family to a way of life quite unlike anything you will see anywhere.
Family-friendly plans to consider: Take a trip to the region's famous ethnic markets, admire gorgeous blossoms at flower gardens, or take some selfies at Lung Cu's iconic flag tower.